Trophy Season begins May 1 and runs through May 15 where we are allowed to keep one fish over a yearly determined length, (currently 35 inches).  May 16 through June 16 is a very popular time for the Striped Bass when we can keep two fish over 20 inches.  Often we catch and release numerous fish while working toward our daily catch limit.  This is an excellent time for lots of action.  If you miss out on the Spring/early Summer season we will fish for these same sized fish again in the fall from late October through December 31.  This is also an excellent time to see a few extra big fish as they often feed heavily during the fall migration.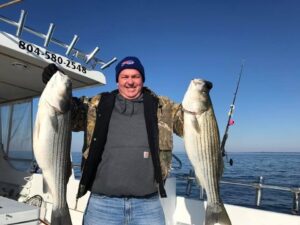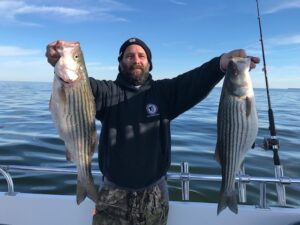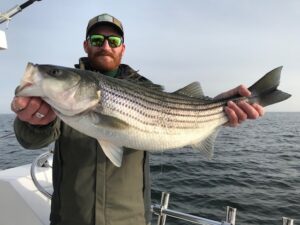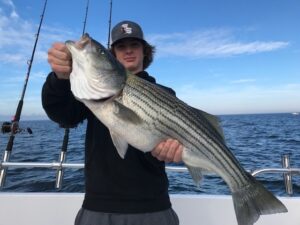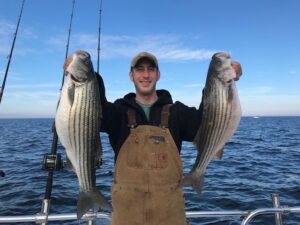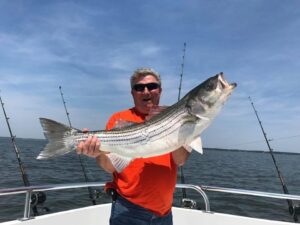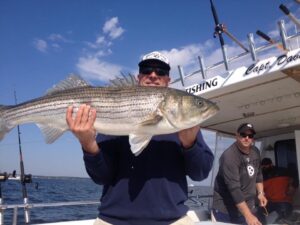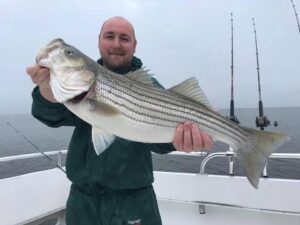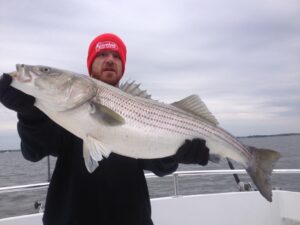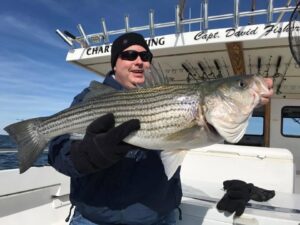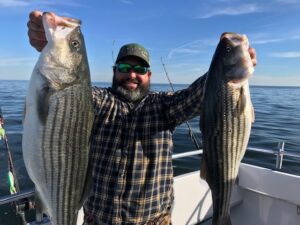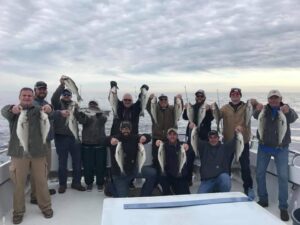 Bluefish and Spanish Mackerel
The Bluefish and Spanish Mackerel come up the Bay during the summer months when the water is the warmest.  July usually marks the beginning of our Mackerel catches with late July through the entire month of August being the overall best month to catch the most.  Often we have days in August where we will catch over 100 Mackerel plus a limit of Bluefish.  If you are looking for big numbers with lots of action, mid-July through August is the time to plan your trip with us.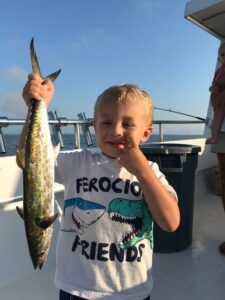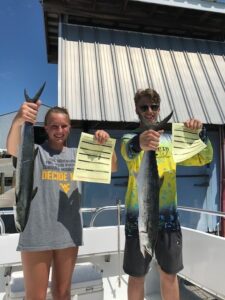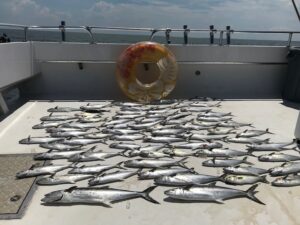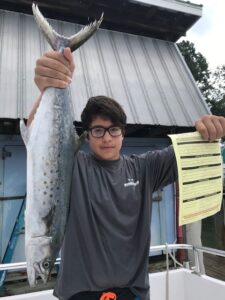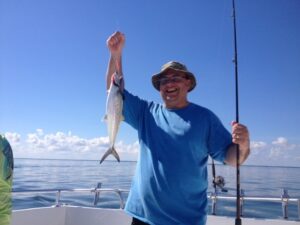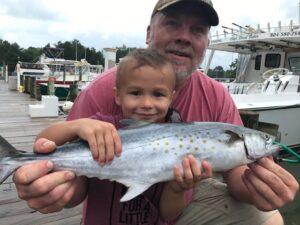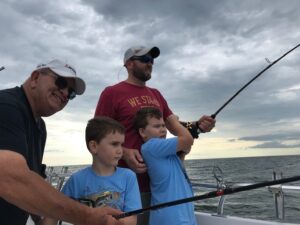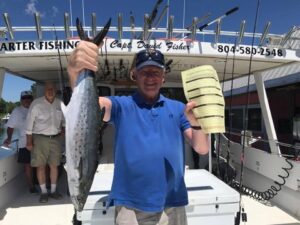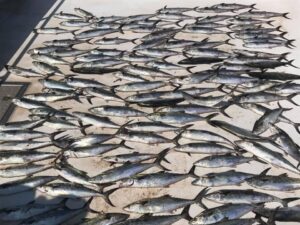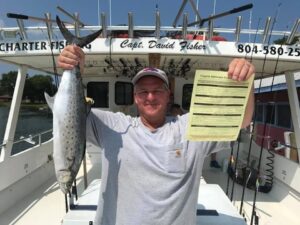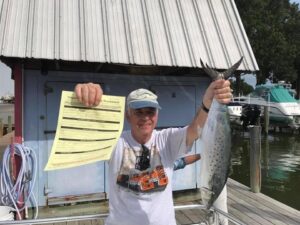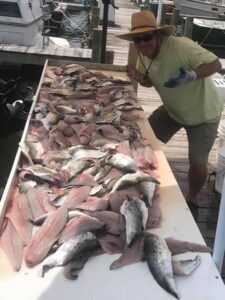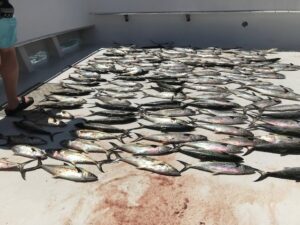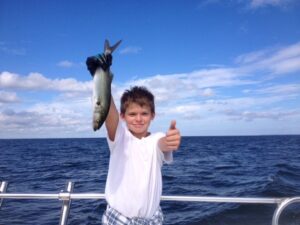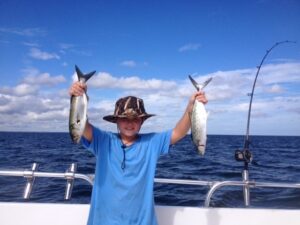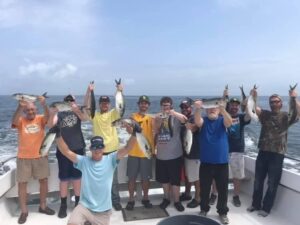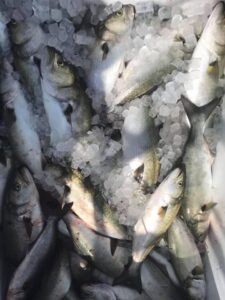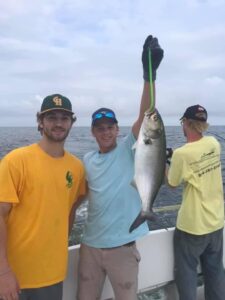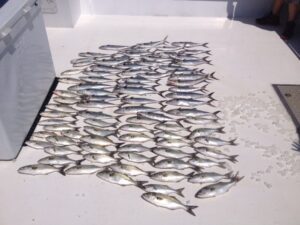 Our most popular time targeting these fish is from June 17 through the end of July, however we often continue to target and catch them well into August.  This is one of the most exciting fish we catch as they are sometimes over 60 inches in length.  Although they are such a large fish they are also one of the mildest eating fish that taste great however you chose to cook them.  As many anglers travel the east coast from Maryland to Florida in hopes of landing one of these hard fighting beasts, we are truly lucky to have them right in our backyard for a few months of the year.  This is a true Trophy hunt when targeting them as currently they must be over 40 inches to be considered a keeper.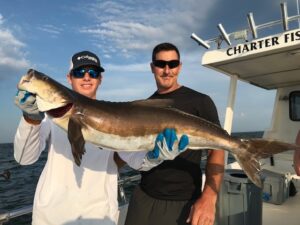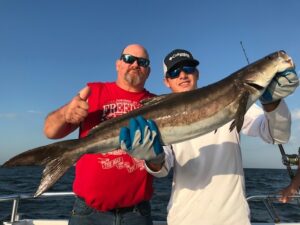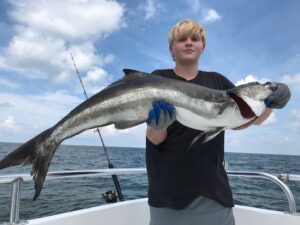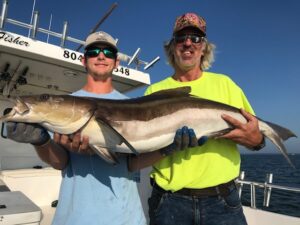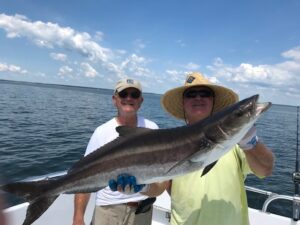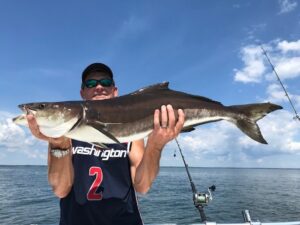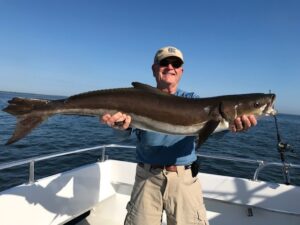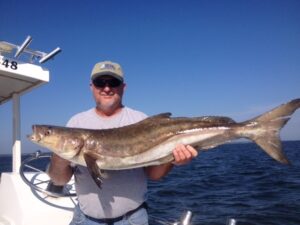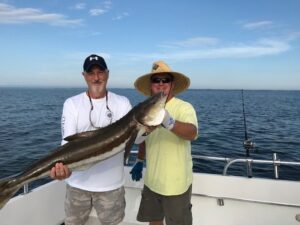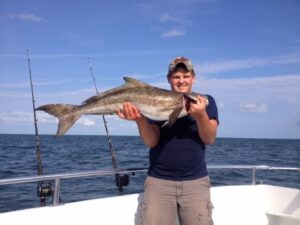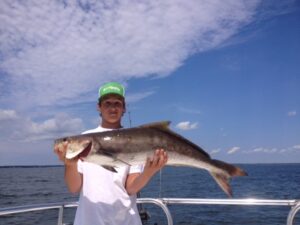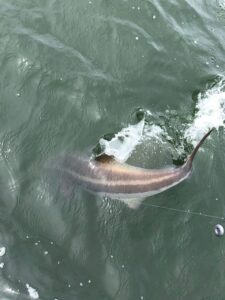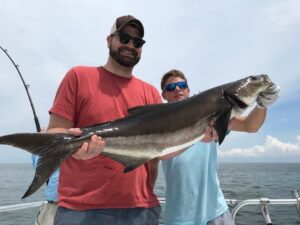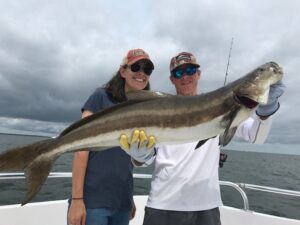 Schools of big Red Drum travel the Chesapeake Bay during the summer months and are considered a highly prized game fish sought after by anglers around the country.  The best time to catch one of these giants is from July through August.  Most of the Red Drum we catch must be released as you are only allowed to keep them between 18 and 25 inches.  The majority of the ones we catch are all over 35 inches.  Often we will catch one over 46 inches which qualifies for a Virginia release citation.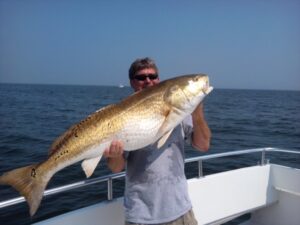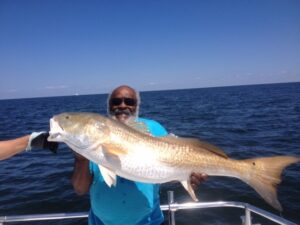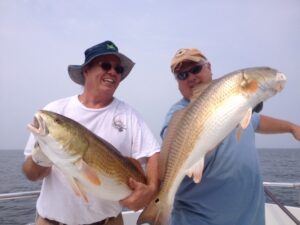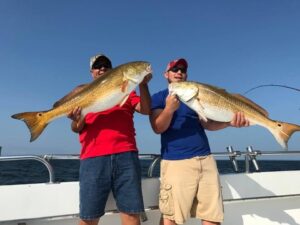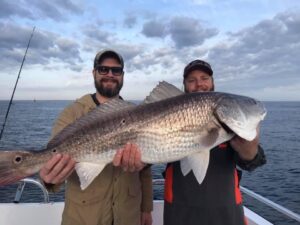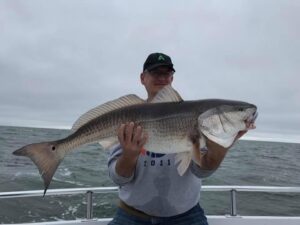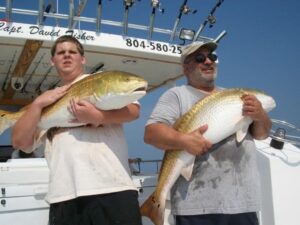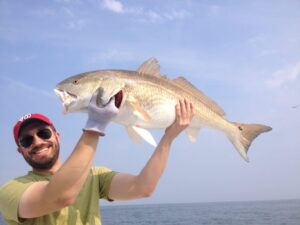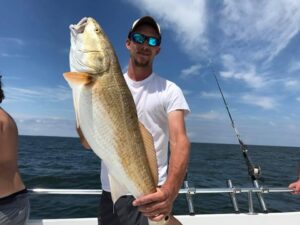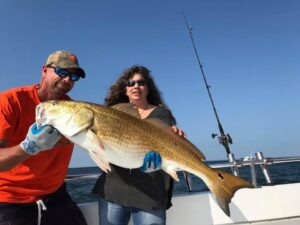 "I've fished for over 50 years on the Chesapeake and lower Potomac River on a variety of boats with a wide range of Captains. I've never fished with any charter captain who works as hard as Captain David Fisher to show his clients a great time and deliver a quality fishing experience."
"I have been fishing over 60+ years now and have fished from Maine to Florida and Oregon to Southern California. Our recent charter trip with you and your mate Doug aboard your 53' "Heritage" is absolutely at the TOP of my lifetime experiences. Catching Citation/Trophy Rockfish (Stripers) aboard the clean and well equipped "Heritage" really added to the enjoyment of a wonderful day on the Chesapeake Bay. I sincerely appreciate the obvious dedication that You, and your Mate demonstrate by ensuring that you "find the fish" and that those on your charter hook-up with great catches. I look forward to fishing with you again and will share with others about my wonderful experience fishing with You aboard the Heritage."
"Once again Captain Fisher and his mate Doug put us on the Rockfish. Captain you went out of your way to locate the fish for us despite you feeling ill all day fighting a bad cold. We really appreciate your outstanding effort to ensure a great trip for us. Once again, my 83 year old Mom showed us the way landing one fish after another. As usual, your mate Doug worked nonstop to keep the action under control. I'm looking forward to our next trip."
"In over 60 years of fishing the Chesapeake Bay, I have never encountered a better captain than Captain David Fisher. He is a consummate gentleman and together with Mate Doug, will enable people of any age and skill to be comfortable and able to enjoy a day on the water. Most important, David has the uncanny ability always to find the best fishing spot available on any given day."
"If you want great fishing memories, you can count of Captain David Fisher and his Mate Doug aboard the beautiful vessel, Heritage. Thanks David for another year of exciting fishing. Putting up with a crew of women for 11 years is an accomplishment on its own. See you later this year and again next Derby."
"Thank you for an absolutely wonderful day on the Chesapeake Bay and a once-in-a-lifetime experience aboard the Heritage when i caught a 44+" citation Rockfish/Striper. You and your mate work great as a team aboard your clean and well-equipped 53' Heritage and I look forward to fishing with you again soon."
"I have been fishing for over forty years, in that time I have chartered numerous boats from Florida to Canada. The Heritage and Captain Dave are by far the best trip I ever booked. The 40+" Striper average was absolutely the best fishing I have ever experienced. Captain Dave I will definitely see you again soon."